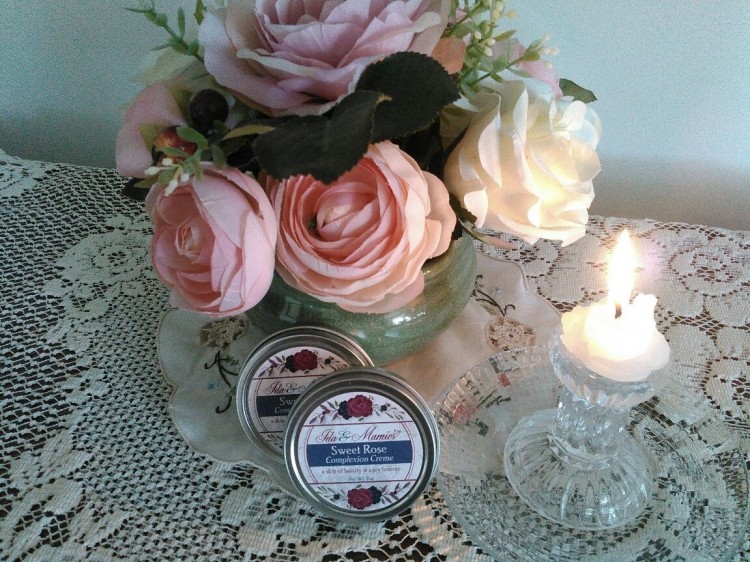 As women, we know in our hearts the joy a youthful complexion brings. As young women this is what
we desire to hold on to. As we mature, this is something we strive to regain.

​A return to youth is what Ida & Mamie's Sweet Rose Complexion Cream provides.
This exceedingly choice emollient is a toilet cream of rare distinction, exquisitely fragrant, soothing and smooth.

There is a great misconception in the cosmetic industry today regarding complexion creams that moisturize. Most all contain water for quick absorption. While our skin does contain water, it is the natural oils that provide the suppleness and soft tones to our skin.

Our complexion cream is an exact match to the oils in your skin. See what even one application will do. Use it daily and watch the improvement in you complexion.

*Eliminates your fine lines and wrinkles
*Reduces the effects of your heavy lines and wrinkles
*Helps heal your breakouts and most skin conditions
*Makes your skin as soft as baby's skin
*If you're young, it will allow you to keep your youthful appearance longer
*If you are middle aged or mature, it will greatly reduce the signs of aging
* As a moisturizing complexion cream, it is without equal.

Directions:
Apply to your face in the morning and before retiring in the evening. After you wash your face, leave your face damp. Dip the fingertips of your dry hand into the cream and after wetting your other hand rub your fingertips together. Apply the complexion cream completely over your whole face, being sure to apply it to areas prone to wrinkles and fine lines.




​​​ (1) 2 oz. container - 349.95
​(free next day shipping)
Item # IM 100
​To order, see order form page.​





.